The VoiceBox apparatus forsees the configuration of a central VoIP telephone service for small and medium sized companies.
The VoIP VoiceBox is based on Linux/Asterisk and will be installed based on the clients necessities, with  guarantee of industrialized and professional management by Infotech.
The VoiceBox will replace the already present telephone service. Therefore the already installed telephone devices will be replaced with VoIP devices, armed with double Ethernet connections (one RJ-45 Cat.5 Ethernet cabling for the LAN and telephone).
The maintenance, implementation of new options and technical support, can also be done remotely. Our staff, if the client requires it, can operate remotely through the internet (using for example TeamViewer).
Generally the VoiceBox does not require a console (maintenance through Browser or terminal emulation on-line using an SSH (Secure Shell) protocol.
In any case of malfunction, we guarantee complete restoration of VoiceBox services and previous configurations within 8 working hours thanks to the fact that the configuration of the various options is saved on a file, that can be automatically sent via e-mail to our Help Desk.
Main components of the VoIP Platform:
Contact Center;

PBXBase;

TDM/ISDN (bus S0) Ports;

GSM/UMTS Ports;

Telephones;

IP Telephones;

ATA (Analog Telephone Adapter)

Cordless IP Phone.
 Componenti principali Piattaforma VoIP
Centralino

PBXBase

Porte TDM ISDN (bus S0)

Porte GSM/UMTS

Telefoni

Telefoni IP

ATA ( Analog Telephony Adapter )

Cordless IP Phone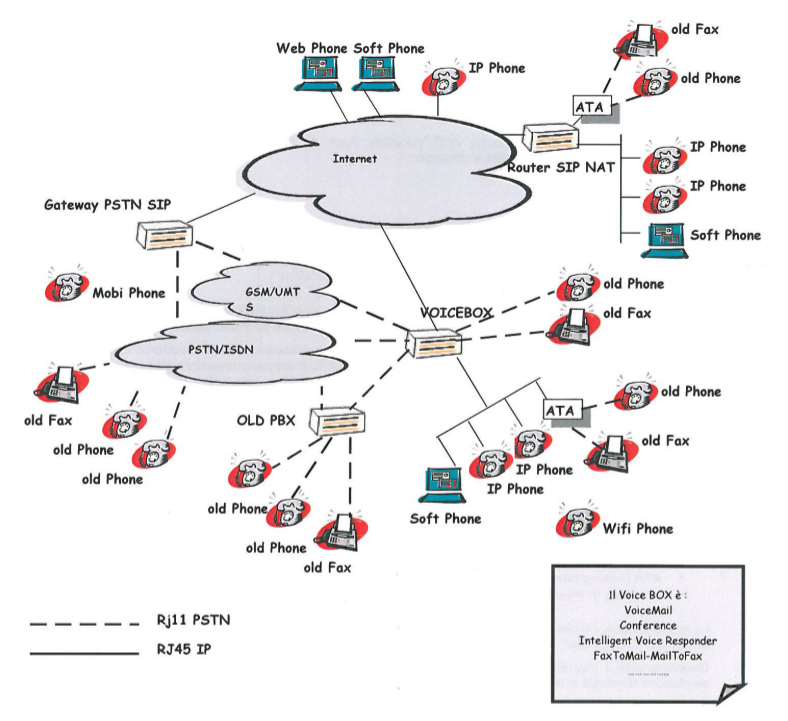 Contact us for futher support and assistance